The Genin Magerappa (下忍マゲラッパ, Genin Magerappa) are Jakanja's henchmen, low-ranked ninja that constantly say their name repeatedly while dancing around. They are armed with a single red kama as their weapon of choice.
Years after the Jankanja disbanded, some remaining the Magerappa served under Sandaru Jr. and Satarokura Jr. who were under the employment of the Space Empire Zangyack. Ep. 25: Pirates and Ninjas They were all defeated by a team-up of the Gokaigers and the Hurricanegers. Ep. 26: Shushuuto The Special
Combined Combatant
Several Genin Magerappa were part of an army of past enemy grunts that were fought by the Gokaigers in Los Dark's ghost dimension which housed the 1500 spirits of the villains defeated by the Super Sentai. After losing some of their number in an initial skirmish, the remaining members from each grunt group merged to form the Combined Combatant. Though the stronger opponent, the Combined Combatant proved to be unstable due to internal conflicting among the grunts composing him over who got to finish the pirates off. Taking advantage, the Gokaigers used the Battle Fever J Ranger Keys to destroy the Combined Combatant with the Penta Force cannon. Kaizoku Sentai Gokaiger the Movie: The Flying Ghost Ship
Hyakki Yakou
15 Magerappa were part of a group of 100 revived Yokai that appeared on the day of Hyakki Yakou and were fought by AkaNinger and StarNinger. During the contest between the two Ninningers to defeat the most Yokai, all 15 Magerappa are destroyed by StarNinger using the Shuriken's Bat evoking Sky Ninja Shurikenger. Shuriken Sentai Ninninger: AkaNinger vs. StarNinger Hundred Nin Battle!
Video Game appearances
Super Sentai Battle Base
The Magerappa are among the various foot soldier forces which appear in the mobile game Super Sentai Battle Base.

Behind the scenes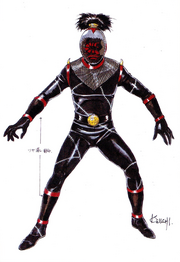 Genin (

下忍

Literally meaning "low ninja") are the lowest level of ninja who serve under the high ranking ninja like Chunin and Jonin. Their name are a pun on Mage (Topknot) and Rappa (Rapper).
See Also

Shuriken Sentai Ninninger
Ninningers
AkaNinger - AoNinger - KiNinger - ShiroNinger - MomoNinger - StarNinger - MidoNinger
Igasaki Clan
Takaharu Igasaki - Yakumo Katou - Nagi Matsuo - Fuuka Igasaki - Kasumi Momochi
---
Apprentice/s: Kyuemon Izayoi (defected) - Kinji Takigawa - Luna Kokonoe
---
Other family members: Tsumuji Igasaki - Harukaze Katou - Sakurako Igasaki
---
Last Ninja: Yoshitaka Igasaki
Gear:
Transformation Ninja Sword Ninja Ichibantou - Transformation Device Ninja StarBurger - Chozetsu Shoubu Changer - Strongest Ninja Sword Ninja Gekiatsuto - Nin Shuriken - Midan Ningeki Karakuri Hengen - Gama Gama Gun - Star Sword-Gun
Allies:
Shishi-Oh - Tetsunosuke Saika XXII - Tatsunosuke Hakkaku - Kikyo Kousaka - Drive Driver
- Kiriko Shijima
- Jun Honganji
- Rinna Sawagami
- Kyu Saijo
- Genpachiro Otta
Shinnosuke Tomari
- Go Shijima
- Yousuke Shiina - Sasuke - Tsuyoshi Kaijo - Toha Yamaji
- Tsubasa Ozu - Asuka Kagura - ToQgers - Zyuohgers
Mecha and Robos
OtomoNin Shinobimaru - OtomoNin Dragomaru - OtomoNin Dumpmaru - OtomoNin Wanmaru - OtomoNin Byunmaru - OtomoNin Paonmaru - OtomoNin UFOmaru - OtomoNin Rodeomaru - Bison King Buggy - OtomoNin Surfermaru - OtomoNin Dinomaru - Sky OtomoNin Lion Ha-Ojo - OtomoNin Hououmaru - OtomoNin Seiryuumaru - OtomoNin Genbumaru - OtomoNin Byakkomaru - OtomoNin Pandamaru - OtomoNin Magoimaru
Shurikenjin - Bison King - King Shurikenjin - Lion Ha-Oh - Ha-Oh Shurikenjin - Gekiatsu Dai-Oh - Ha-Oh Gekiatsu Dai-Oh
Kibaoni Army Corps
Gengetsu Kibaoni
Generals: Kyuemon Izayoi - Raizo Gabi - Masakage Tsugomori - Ariake no Kata - Mangetsu Kibaoni - Juza Yumihari
Yokai: Yokai Kamaitachi - Yokai Kappa - Yokai Kasha - Yokai Tsuchigumo - Yokai Ungaikyo - Yokai Buruburu - Yokai Tengu - Yokai Nekomata - Yokai Oogumo - Yokai Ittan-momen - Yokai Daidarabotchi - Yokai Enraenra - Yokai Yamawarawa - Yokai Yamabiko - Yokai Futakuchi-onna - Yokai Kasabake - Yokai Umibozu - Yokai Otoroshi - Yokai Baku - Yokai Nurikabe - Yokai Yuki-Onna - Western Yokai Franken - Western Yokai Dracula - Yokai Mataneko - Western Yokai Wolf Man - Yokai Mokumokuren - Yokai Amikiri - Yokai Fudagaeshi - Yokai Wanyūdō
Advanced Yokai: Advanced Yokai Nue - Advanced Yokai Konakijiji - Advanced Yokai Oumukade - Advanced Yokai Oboroguruma - Advanced Yokai Binbogami - Super Advanced Yokai Shuten-douji
Ninjas: Speed Ninja Hayabusa - Sugoroku Ninja Ikkakusai - Puppet Ninja Kuroari - Substitution Ninja Mujina - Poison Arrow Ninja Suzumebachi
Footsoldiers: Hitokarage - Jukkarage - Hyakkarage - Giant Yokai Gashadokuro - Genin Supparage
Mecha: Karakuri Kyuubi - Red Kyuubi
Other
Roidmudes:
Heart
- Brain
- Medic
- 089/Doctor D/Shocker Buruburu
- 057
- 016
- 076
Shocker
:
Great Leader of Shocker
- Hiruchameleon
- Turtle Bazooka
- Shocker Combatmen
- Rider Robo
Hyakki Yakou: Dorodoros - Genin Magerappa
View • Talk • Edit
Ad blocker interference detected!
Wikia is a free-to-use site that makes money from advertising. We have a modified experience for viewers using ad blockers

Wikia is not accessible if you've made further modifications. Remove the custom ad blocker rule(s) and the page will load as expected.