Geki Jumonji
Talk

0
9,853pages on
this wiki
Main article: Geki Jumonji
Space Sheriff Gavan!
Geki Jumonji (十文字 撃, Jūmonji Geki?) is a member of the Galactic Union Police (銀河連邦警察, Ginga Renpō Keisatsu?) who succeeded its veteran member Retsu Ichijouji as the current Space Sheriff Gavan (宇宙刑事ギャバン, Uchū Keiji Gyaban?).
Character History
Go-Busters
As the new Gavan, Geki is deployed to Earth to pursue Rhino Doubler, a Doubler Monster of the Space Criminal Syndicate Makuu. After encountering the Go-Busters, Geki asks for their help in tracking down Rhino Doubler.
Super Hero Taisen Z
To be added

Space Sheriff Gavan (Type G)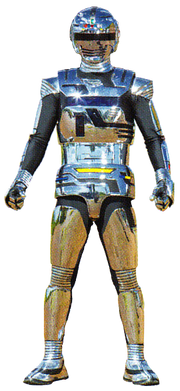 By shouting "Jouchaku" (蒸着, Jōchaku?), the Super Dimensional Highspeed Ship Dolgiran encases him in Granium particles that form into his Gavan Type-G combat suit within 0.5 seconds.
Arsenal
See also: Gavan (Type G)'s arsenal on the Metal Heroes Wiki.
Jouchaku Process: The Jouchaku Process is what Geki uses to transform into Gavan, like Retsu before him. When Gavan shouts "Jouchaku," ("Electroplate!") the Dolgiran sends particles of Granium to form Gavan's combat suit in 0.05 seconds. In comparison, it takes the Go-Busters 0.5 seconds to morph into their Buster Suits.
Laser Blade: Laser Blade is Gavan's mighty sword is a first normal, with a steel blade. He later transforms it into a light blue blade, which is required to perform the Gavan Dynamic.
Gavan Dynamic: Gavan Dynamic is Gavan's finishing move which he performs to destroy monsters by slicing him in two with his power Laser Blade. Gavan uses the Gavan Dynamic on Rhino Doubler.
Spiral Kick: To execute Spiral Kick, Gavan jumps on monsters and henchmen with his feet forward.
Laser Z Beam: Laser Z Beam is one of Gavan's weapons. To use it, Gavan uses his right and middle fingers to release small blue laser triangles to destroy an enemy.
Barrier: Barrier is Gavan's shield; a magnetic blue barrier he uses to stop objects and projectiles.
Gavan Punch: Gavan Punch is one of Gavan's basic moves, which is a powerful punch.
Gavan Kick: Gavan Kick is another of Gavan's basic moves, which is a powerful right leg kick used while jumping.
Vehicles
Mecha
Super Dimensional Highspeed Ship Dolgiran (

超次元高速機ドルギラン

Chō Jigen Kōsokuki Dorugiran

?

): Gavan's main spaceship and mobile headquarters. It is composed of the giant weaponed Giran Saucer (Giran Enban) and a body which transforms into a dragon. The Jouchaku Process is also possible thanks to a computer on board, which sends the Granium particles.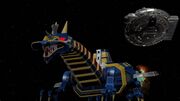 Electronic Starbeast Dol (

Denshi Seiju Doru

?

): Dol forms from the second part of the Dolgiran and becomes a powerful mechanical dragon which supports Gavan. Gavan commands Dol from a place on its head. Gavan uses Dol mostly to destroy Makuu spacecraft. Its attacks include Dol Fire (Dol breathes out fire from its mouth), Dol Kick (uses its front feet to clamp down pesky fighters), Dol Laser (laser beams from Dol's eyes), and Tail Attack (Dol's tail whipping fighters attacking from behind). Helps out Great Go-Buster when Rhino Doubler goes giant.
Notes
Portrayal
Geki Jumonji is portrayed by Yuma Ishigaki (石垣 佑磨, Ishigaki Yūma?).
Behind the scenes
References
External links