description to be added
Character History
Gedonian Uniga (ゲド星人ウニーガ, Gedo Seijin Unīga?, 49 & 50): Urchin-like Alienizer that Rainian Agent Abrella rescues from the prison Doggie Kruger sent him to and equipped with Hyper Muscle Gear to help him invade the DekaBase. He managed to take down DekaMaster, but is deleted by the assembled Dekarangers. Uniga is the base model for the powerful Igaroids, and even performed the same sword attack. Uniga is deleted by DekaBreak.
Personality
to be added
Modus and Arsenal
Notes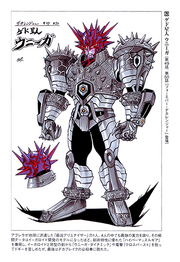 Portrayal
Behind the Scenes
His name comes from "Uni", which is the Japanese word for "sea urchin", which is his motif.
See Also
References
Ad blocker interference detected!
Wikia is a free-to-use site that makes money from advertising. We have a modified experience for viewers using ad blockers

Wikia is not accessible if you've made further modifications. Remove the custom ad blocker rule(s) and the page will load as expected.