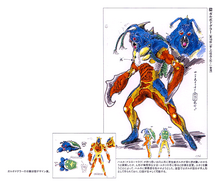 Garubo Doggler (ガルボドグラー, Garubodogurā, 18): A monster with a bloodthirsty parasite called Garubo (ガルボ Garubo, Garubo). Oyobu uses the monster in a scheme to kill Haruka by having Garubo enter Marie, Haruka's childhood doll. The plan is altered when Haruka gives the doll to a girl Yukari Murakami. Haruka finds Yukari at airport and Marie to a safe distance as she wrestles Garubo. It rejoins its Doggler. Once blasted to bits by the Shot Bomber, this monster is revived as it attempts a divide and counter move. The monster was destroyed by Great Five.
Ad blocker interference detected!
Wikia is a free-to-use site that makes money from advertising. We have a modified experience for viewers using ad blockers

Wikia is not accessible if you've made further modifications. Remove the custom ad blocker rule(s) and the page will load as expected.