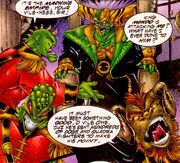 Gamma Vile is a planet in the M51 Galaxy where Master Vile resided in his fortress. It is a rocky and desolate world of purple skies where three silvery moons (perhaps artificial) are in orbit. His fortress is built on top of a road that spirals up to its front gate and is guarded by various dragon-men and goat-men in red uniforms. With Friends Like These
Ad blocker interference detected!
Wikia is a free-to-use site that makes money from advertising. We have a modified experience for viewers using ad blockers

Wikia is not accessible if you've made further modifications. Remove the custom ad blocker rule(s) and the page will load as expected.