Ad blocker interference detected!
Wikia is a free-to-use site that makes money from advertising. We have a modified experience for viewers using ad blockers

Wikia is not accessible if you've made further modifications. Remove the custom ad blocker rule(s) and the page will load as expected.
"Gaku... FiveRed!"

―FiveRed's roll call
Gaku Hoshikawa (星川 学, Hoshikawa Gaku?) is FiveRed (ファイブレッド, Faibu Reddo?) of the Fivemen.
Biography
Fiveman
At 27 years old, he is the eldest and leader of the team. A Science teacher skilled in kendo, Gaku was 7 at the time of the Zone's attack on Sidon. Calm and responsible, he had the task of raising his four siblings along with Arthur G6, making him not just a big brother but also a leader and a parental figure.
Out of fear, fired a gun at Garoa's face, scarring him, creating a rivalry. Even though he is a reliable and brave leader, he has a major weakness with the supernatural.
Super Sentai World
Gaku later led his team in joining forces with the Jetmen, Zyurangers, Dairangers, and Kakurangers to defeat the evil Emperor Daidas and his forces. Super Sentai World
Gaoranger vs. Super Sentai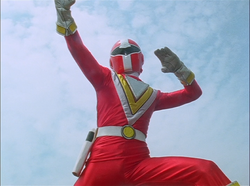 FiveRed is among the Sentai warriors seen in clips when Yuusuke Amamiya (Red Falcon) lectured Gaku Washio (GaoYellow) about the past Sentai sword experts, showing him that the true sword wasn't the sharpest, but the one that feeds on courage.
Led by his Liveman predecessor Red Falcon, he appeared as one of 24 previous Red Rangers in Gaoranger vs. Super Sentai together with fellow Red Rangers from his predecessors AkaRanger to Red Turbo to his successors from Red Hawk to TimeRed. Hyakujuu Sentai Gaoranger vs. Super Sentai
Gokaiger
Legend War
Years later, Gaku fought alongside not only his own team, but every single Sentai ranger in existence, against the Empire of Zangyack when it attacked the Earth in the Great Legend War. After fighting against hundreds of Gormin and their Zgormin commanders. Kaijou noticed the fleet moving towards them, he gathered all the Rangers together and gave them the order to sacrifice their powers to wipe out the first invasion's armada. The FiveRed powers are later used by Captain Marvelous via the Ranger Keys. Ep. 1: The Space Pirates Appear Gokaiger Goseiger Super Sentai 199 Hero Great Battle
Farewell Space Pirates
After the defeat of Ackdos Gill, Captain Marvelous returned all the Ranger Keys to the former Sentai heroes. It is assumed Gaku received his key alongside his younger sister Remi, allowing for them to utilize their abilities once again. Final Ep.: Farewell Space Pirates
Super Hero Taisen
Gaku, alongside his team, among the majority of the Super Sentai heroes, was caught up in the "Super Hero Taisen" incident which eventually resulted in the Super Sentai teams and Kamen Riders joining forces to defeat both Dai-Zangyack and Dai-Shocker. Kamen Rider × Super Sentai: Super Hero Taisen
Super Hero Taisen Otsu
to be added Kamen Rider × Super Sentai × Space Sheriff: Super Hero Taisen Otsu: Heroo! Answers

Video Game appearances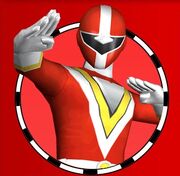 Gaku Hoshikawa/FiveRed: to be added
Super Sentai Battle Base
FiveRed is among the vast pantheon of Rangers which are avaliable in the mobile game Super Sentai Battle Base, with his Five Tector being avaliable as well.

FiveRed
Mecha
Star Carrier / Star Five (shared with Blue, Black, Pink, and Yellow)
Arsenal
Special Attacks
V-Sword Slash:  Charging up his V-Sword, FiveRed performs an overhead slash against an opponent.
Hyper Five Kick:  With his teammates boosting him along and adding their strength to his momentum, FiveRed delivers a spinning drop kick against an opponent.
Legend Sentai Devices
Red Spirit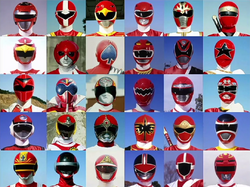 As the fourteenth Red, FiveRed's Red Warrior Spirit was embodied by AkaRed. GoGo Sentai Boukenger vs. Super Sentai

Imitations
Baikanian Ginga Red of the Galaxy Sentai Gingaman disguised as FiveRed when his team posed as Fiveman.
Behind the scenes
Portrayal
Gaku Hoshikawa is portrayed by Toshiya Fuji (藤 敏也, Fuji Toshiya?). As FiveRed, his suit actor was Kazuo Niibori (新堀 和男, Niibori Kazuo?).
Notes
His given name can be translated into "to study".
The symbol on Five Red's helmet is an atom, which symbolizes Gaku's occupation as a science teacher.
In the Philippine Dub, he was renamed as William but in the TV5 version his name changed to Manabu.

In the Indonesian Dub, he was also renamed as Manabu which is the same as in the Philippine Dub of the TV5 version.

In the Philippine Dub of TV5 version, he is voiced by Bernie Malejana also voices Ryu Tendo in Choujin Sentai Jetman.
Appearances
External links