| | |
| --- | --- |
| | This article is about a/an game-exclusive Ranger in the Power Rangers franchise. |
"Rangers forever!!!"

―Super Legends
|[src]]]
Omega Ranger appears in Power Rangers: Super Legends (non-handheld games). here he is labeled as Future Omega Ranger. He appears as the guardian of the Hall of Legends. He refers to himself as "Omega Ranger" only. It is heavily implied that he is the future version of Sam, given how Sam himself has had a time-traveling adventure, under the wing of the Guardian of the Hall of Legends that led to him becoming the new guardian of the Hall of Legends.
The future Omega Ranger recruited Sam, the Omega Ranger himself, with Doggie Cruger, Shadow Ranger, to battle Icthior who had joined forces with Emperor Gruumm and Lord Zedd.
Future Omega Ranger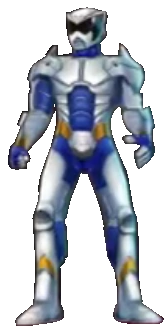 Arsenal
Zords
Notes
See Also
Ad blocker interference detected!
Wikia is a free-to-use site that makes money from advertising. We have a modified experience for viewers using ad blockers

Wikia is not accessible if you've made further modifications. Remove the custom ad blocker rule(s) and the page will load as expected.