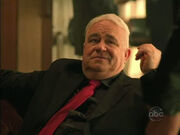 Fresno Bob is the leader of the Scorpion Cartel, who is known as a criminal to both the Rangers and Colonel Truman, but manages to remain free. After being saved by Ziggy, Fresno Bob decides to let Ziggy off the hook and call them even. He once appeared to have given money to Jungle Karma Pizza.
Ad blocker interference detected!
Wikia is a free-to-use site that makes money from advertising. We have a modified experience for viewers using ad blockers

Wikia is not accessible if you've made further modifications. Remove the custom ad blocker rule(s) and the page will load as expected.