First Lieutenant Zilong (, Jiryu Chui, 45-46): One of the leaders of the Imperial Guard, Zilong is a member of the Marching Men. He was Kaku's supporters amongst the Gorma. He had Hercules-like strength and from his eye beams the power of the monster-strength of the Gorma. He dies fighting Dairen'oh to Kaku's horror.
Notes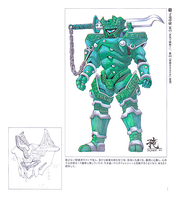 His name comes from "Zilong", the courtesy name of Zhao Yun, a military general who lived in the late Eastern Han dynasty and early Three Kingdoms period.
Ad blocker interference detected!
Wikia is a free-to-use site that makes money from advertising. We have a modified experience for viewers using ad blockers

Wikia is not accessible if you've made further modifications. Remove the custom ad blocker rule(s) and the page will load as expected.