Great Crimson Victory!! Shine Forever, Five Stars (真赤な大勝利!! 永久に輝け五つ星, Makka na Daishōri!! Eikyū ni Kagayake Itsutsu Hoshi) is the eighty-fourth and final episode of Himitsu Sentai Gorenger.
Synopsis
The Gorenger must decipher the meaning of a mysterious prophecy in order to finally stop the Black Cross Furher before he destroys them and the world once and for all!
Plot
to be added
Cast
Suit Actors
Notes
Aside from being the last episode of Gorenger, it is also the last Sentai episode to air on NET before it was renamed as TV Asahi on April 1, 1977.
This is the last time all five actors played their Gorenger roles together. Despite this, all five actors do return to Super Sentai in some capacity:
The key to this episode involves the constellation of Cassiopeia ("The Seated Queen"), which is made of five stars formed in the shape of a "W" in the sky. The episode also reveals that the five Gorenger themselves are connected via the constellation via their names and thus the final meaning of being the "five stars" for the team via the Japanese reading of the word as "Kashiopea":

KA: Kaijo Tsuyoshi
SHI: Shinmei Akira
O: Oiwa Daita
PE: Peggy Matsuyama
A: Asuka Kenji
DVD releases
Himitsu Sentai Gorenger Volume 14 features episodes 79-84: Ep. 79: Crimson Pursuit!! The Formless Assassin's True Form, Ep. 80: Crimson Crossing in Enemy Territory! Escape to Hope, Ep. 81: Black Doubt!! The Murder Spy's Trap, Ep. 82: Black Magician!! Mystery of the Dollhouse?!, Ep. 83: Orange First Love!! The Roaring Megalopolis, and Final Ep.: Great Crimson Victory!! Shine Forever, Five Stars. [1]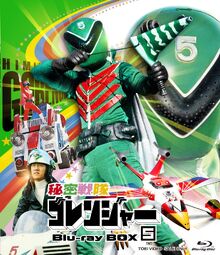 Blu-ray Box 5 comes with 17 episodes.
References