description to be added
Character History
Fast-Talking Player (早口旅ガラス, Hayakuchi Tabigarasu?, 29 & 30): A champion talker, he uses bombs that detonate if you failed to say a tongue-twister. He was gathering children with his fishing rod to slave for the Gorma, to open a crack in the gates of Hell, so that the Gorma Triumvirate could drink in that power emitted from it. It was during his part in the plan that he exposed Kou as the KibaRanger. Though killed by the Chi-Power Bazooka, his fishing rod remained and was used by the Gorma Emperor to retrieve Akomaru from Hell.
Personality
to be added
Modus and Arsenal
Notes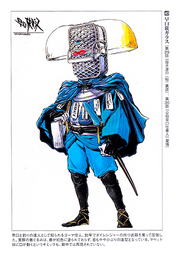 Portrayal
Behind the Scenes
His motif is the one of a Microphone.
See Also
References
Ad blocker interference detected!
Wikia is a free-to-use site that makes money from advertising. We have a modified experience for viewers using ad blockers

Wikia is not accessible if you've made further modifications. Remove the custom ad blocker rule(s) and the page will load as expected.