Black Doubt!! The Murder Spy's Trap (黒い疑惑!! 殺人スパイの罠, Kuroi Giwaku!! Satsujin Supai no Wana) is the eighty-first episode of Himitsu Sentai Goranger.
Synopsis
When Kenji is set up as a murderer and a spy by a friend and a Masked Monster, he goes on the run to find out the reason why.
Plot
to be added
Cast
Guest cast
Suit Actors
Notes
DVD releases
Himitsu Sentai Gorenger Volume 14 features episodes 79-84: Ep. 79: Crimson Pursuit!! The Formless Assassin's True Form, Ep. 80: Crimson Crossing in Enemy Territory! Escape to Hope, Ep. 81: Black Doubt!! The Murder Spy's Trap, Ep. 82: Black Magician!! Mystery of the Dollhouse?!, Ep. 83: Orange First Love!! The Roaring Megalopolis, and Final Ep.: Great Crimson Victory!! Shine Forever, Five Stars. [1]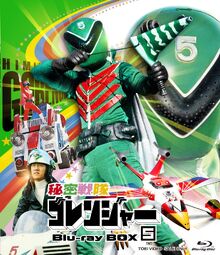 Blu-ray Box 5 comes with 17 episodes.
References