Pink Moonlight! Wolf Corps (ピンクの月光! オオカミ部隊, Pinku no Gekkō! Ookami Butai) is the seventh episode of Himitsu Sentai Goranger.
Synopsis
The discovery of a normal human turned into a wolf-man leads Tsuyoshi and Peggy to a town where a Masked Monster is turning captives into a bestial army.
Plot
to be added
Cast
Guest Cast
Suit Actors
Notes
DVD/Blu-ray releases
Himitsu Sentai Gorenger Volume 2 features episodes 7-12: Ep. 7: Pink Moonlight! Wolf Corps, Ep. 8: Black Fear! The Murderous Poison Fang, Ep. 9: Blue Shadow, Variblune Secret Strategy, Ep. 10: The Red Balloon! Wind Speed at 100 Meters, Ep. 11: Green Shudder! The Escape From Ear Hell, and Ep. 12: Super Energy of Silver! Burning Hell. [1]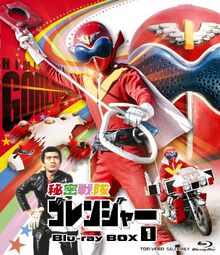 Blu-ray Box 1 comes with 16 episodes.

References