Green Anger, Immortal Gas-Person (みどり色の怒り 不死身ガス人間, Midori-iro no Ikari Fujimi Gasu Ningen) is the fifth episode of Himitsu Sentai Goranger.
Synopsis
Kenji becomes obsessed in taking revenge on Poison Gas Mask, even as the Black Cross general tries to make himself an immortal warrior.
Plot
to be added
Cast
Guest Cast
Suit Actors
Notes
DVD/Blu-ray releases
Himitsu Sentai Gorenger Volume 1 features episodes 1-6: Ep. 1: The Crimson Sun! The Invincible Gorengers, Ep. 2: The Blue Earth! The Deadly Desertfication Plan, Ep. 3: Big Counterattack! A Yellow Whirlwind, Ep. 4: A Crimson Kick! Smash the Great Microbe Plan, Ep. 5: Green Anger, Immortal Gas-Person, and Ep. 6: Red Riddle! Chase the Spy Route to the Sea. [1]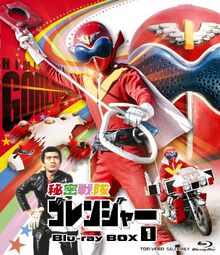 Blu-ray Box 1 comes with 16 episodes.

References