Ep. 46: Presenting! The Vicious Squadron
Talk

0
Share
Ad blocker interference detected!
Wikia is a free-to-use site that makes money from advertising. We have a modified experience for viewers using ad blockers

Wikia is not accessible if you've made further modifications. Remove the custom ad blocker rule(s) and the page will load as expected.
Presenting! The Vicious Squadron (参上! 凶悪戦隊, Sanjō! Kyōaku Sentai?) is the forty-sixth episode of Kyoryu Sentai Zyuranger.
Synopsis
A DoraMonster-led squad of evil Zyuranger turn the tide of public opinion against the real heroes, estranging them from the society they want to protect.
Plot
DoraMirage creates malevolent impostors of the five Zyurangers and manipulates the media to spread the bad reputations of Zyurangers. Zyurangers are shocked by how quickly people lose their trust in their heroes. They fight their clones and defeat DoraMirage.
Cast
Notes
DVD releases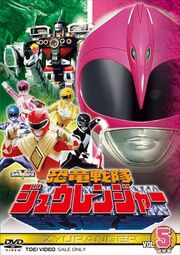 Kyoryu Sentai Zyuranger Volume 5 features episodes 41-50. [1]
The complete Zyuranger series was released in America by Shout! Factory in 2015.
References
See also