Swordsman! Japan's Best (女剣士! 日本一, Onna Kenshi! Nihon'ichi?) is the forty-fourth episode of Kyoryu Sentai Zyuranger.
Synopsis
Goushi protects the best swordswoman in Japan from Bandora's newest DoraMonster, who absorbs and multiplies the talents of the best people for itself.
Plot
Goushi meets Sayaka, an upright kendo woman. Yet, Sayaka's talent draws Bandora's attention, and DoraChimaera takes over Sayaka's body and assaults Goushi.
Cast
Notes
DVD releases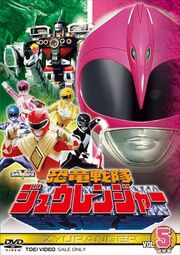 References
See also