Ep. 43: We Won't Lose! The Decisive Battle is on Christmas Eve
Talk

0
Share
We Won't Lose! The Decisive Battle is on Christmas Eve (負けない! 決戦はクリスマスイブ, Makenai! Kessen wa Kurisumasu Ibu?) is the forty-third episode of Denji Sentai Megaranger. This is the concluding episode of the Neziranger arc, featuring the death of NeziRed, NeziBlack and NeziYellow and the final appearance of Evil Electro-King Javious I and the destruction of Neziregia.
Synopsis
The Megaranger track down the stolen Mega Voyager, leading to a climactic showdown with the Nejiranger... and unknowingly advancing Hinelar's ultimate desire!
Plot
to be added
Cast
to be added
Notes
This episode is notable not only for the death of the remaining Nezirangers (NeziRed, NeziBlack, NeziYellow) but, with their death, the death of Evil Electro-King Javious I and the destruction of the Nezire Dimension.

With Javious' death, all of the remaining Neziregia forces are completely owned and under the control of Dr. Hinelar, while the Death Neziros takes up residence on Earth for the remainder of the series.

Final appearance of Super Galaxy Mega.
DVD releases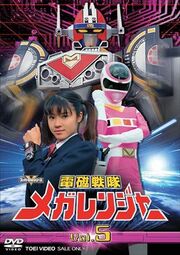 Denji Sentai Megaranger Volume 5 features episodes 42-51. [1]
See Also
References
Ad blocker interference detected!
Wikia is a free-to-use site that makes money from advertising. We have a modified experience for viewers using ad blockers

Wikia is not accessible if you've made further modifications. Remove the custom ad blocker rule(s) and the page will load as expected.