A Pure White Flash! The Black Cross Führer's True Form (真白い閃光! 黒十字総統の正体, Masshiroi Senkō! Kuro Jūji Sōtō no Shōtai) is the thirty-seventh episode of Himitsu Sentai Goranger.
Synopsis
Gonpachi leads the Gorenger on a mission to infiltrate a secret meeting held by the Black Cross Furher in order to stop his schemes and unmask him.
Plot
to be added
Cast
Guest Cast
Suit Actors
Notes
This is the first time that multiple people use the same Sentai identity, with a second group of "temporary Gorenger" (including Yoko Kato as Momorenger) appearing to assist at the same time four of the real Gorenger are captured.
DVD releases
Himitsu Sentai Gorenger Volume 7 features episodes 37-42: Ep. 37: A Pure White Flash! The Black Cross Führer's True Form, Ep. 38: The Blue Cliff! The Search for Demonic Pirate Treasure, Ep. 39: Crimson Sea of Japan! The Mysterious Meteorite's ESP, Ep. 40: The Crimson Vengeance Demon! The Momorenger From Hell, Ep. 41: Big Black Counterattack! The Battle of Tottori Dune, and Ep. 42: The Black Ironman Dies! Farewell, Variblune. [1]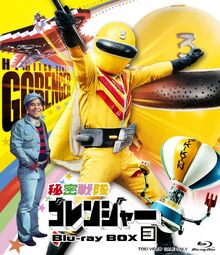 Blu-ray Box 3 comes with 17 episodes.
References