The Hooligan Ninja!! (暴れん坊忍者!!, Abarenbō Ninja!!?) is the thirty-sixth episode of Ninja Sentai Kakuranger.
Synopsis
When the disciple of the Three God Generals returns to Earth after a thousand years in exile, both the Kakuranger and the Yokai try to reach him first even as he's discovered by two curious children.
Plot
to be added
Cast
to be added
Notes
Eyecatch
Debut of Ninjaman.
There is a slight temporal discrepancy regarding when the war between the Three God Generals and the Yokai occurs between this episode and a previous one: this episode states that the battle that lead to Daimou's sealing occurred 1000 years prior; while previously the battle was stated to be 2000 years prior.
DVD releases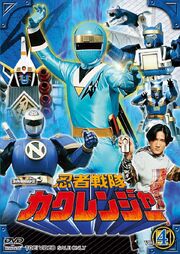 Ninja Sentai Kakuranger Volume 4 features episodes 34-43.[1]
The complete Kakuranger series was released in America by Shout! Factory in 2016.

See Also
References
Ad blocker interference detected!
Wikia is a free-to-use site that makes money from advertising. We have a modified experience for viewers using ad blockers

Wikia is not accessible if you've made further modifications. Remove the custom ad blocker rule(s) and the page will load as expected.