Ninja Warrior, Boi (忍者戦士ボーイ, Ninja Senshi Bōi) is the thirty-fifth episode of Kyoryu Sentai Zyuranger.
Synopsis
Boi takes a job as a bodyguard of a ninja family researching a powerful medicine Bandora believes will bring her immortality.
Plot
Boi is hired as a guard at Tomura Ninja school. DoraNinja assaults the school to steal the medicine for longevity which Tomura is researching.
At the end, Boi is on a tight situation since Chisato Kameda wants to marry him after she is saved from the Dora Ninja.
Cast
Notes
DVD releases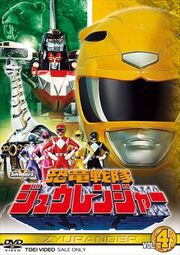 Kyoryu Sentai Zyuranger Volume 4 features episodes 31-40.[1]

The complete Zyuranger series was released in America by Shout! Factory in 2015.

References
See Also
Ad blocker interference detected!
Wikia is a free-to-use site that makes money from advertising. We have a modified experience for viewers using ad blockers

Wikia is not accessible if you've made further modifications. Remove the custom ad blocker rule(s) and the page will load as expected.