Ep. 33: Teach Me! The Jewel of Bravery
Talk

0
Share
Ad blocker interference detected!
Wikia is a free-to-use site that makes money from advertising. We have a modified experience for viewers using ad blockers

Wikia is not accessible if you've made further modifications. Remove the custom ad blocker rule(s) and the page will load as expected.
Teach Me! The Jewel of Bravery (教えて! 勇気玉, Oshiete! Yūki Tama?) is the thirty-third episode of Kyoryu Sentai Zyuranger.
Synopsis
Dan must teach a girl how to gain courage after she becomes the only means to save a friend and a fairy from a DoraMonster's plot to create the ultimate rainstorm.
Plot
DoraLaygor abuses the power of blue gem, and only the red gem, which a timid girl named Saori owns, can stop the turbulence. Dan persuades Saori to be brave. DoraLaygor sticks the Zyuranger and Saori in another dimension. The Zyuranger combine their powers through their coins into Dan's coin to escape the dimension to finish off DoraLaygor.
Cast
Notes
DVD releases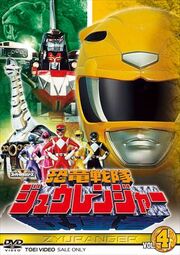 Kyoryu Sentai Zyuranger Volume 4 features episodes 31-40. [1]
The complete Zyuranger series was released in America by Shout! Factory in 2015.
References
See also