Ep. 33: Cheerful! The Lover Who Came From the Moon
Talk

0
Share

Cheerful! The Lover Who Came From the Moon (ウキウキ! 月から来た恋人, Ukiuki! Tsuki Kara Kita Koibito) is the thirty-third episode of Denji Sentai Megaranger. It introduces the upgraded version of the Nezire Beasts: the Psycho-Nezilar, Yugande's new form, as well as the 03 function on Kenta's Battle Riser which power-ups his Drill Sniper Custom. Also starting from this point, the I.N.E.T. Moonbase becomes the Megaranger's new standard base of operations.
Synopsis
The female I.N.E.T. programmer behind Kenta's Battle Riser comes to Earth for a crucial upgrade, which MegaRed tries to believe is something more romantic.
Plot
to be added
Cast
to be added
Notes
The growth of Lion Nejilar in this episode is a special one-time usage by Bibidebi of breathing a mist on a completely destroyed Psycho-Nejilar to both revive and grow it for giant combat.
DVD releases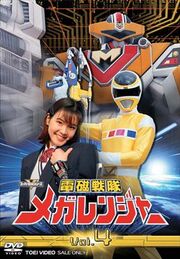 Denji Sentai Megaranger Volume 4 features episodes 32-41. [1]
See Also
References
Ad blocker interference detected!
Wikia is a free-to-use site that makes money from advertising. We have a modified experience for viewers using ad blockers

Wikia is not accessible if you've made further modifications. Remove the custom ad blocker rule(s) and the page will load as expected.