Mei On A Silver Platter' (メイを食べたい, Mei o Tabetai) is the twenty-seventh episode of Kyoryu Sentai Zyuranger.
Synopsis
When Bandora brings back an ancient flower-manipulating enemy of the Lithia Tribe, Mei must do what it takes to stop it, even at the cost of her life.
Plot
Mei finds the flower of Lyciam, symbol of her tribe. As DoraGuzzler's lethal flowers start to assault people, Mei decides to follow the legend of princess Yui, who sacrificed her life to save the people of Lycia tribe.
Cast
Guest Cast
Notes
DVD Releases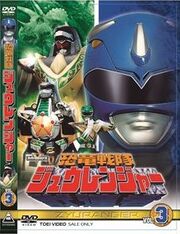 Kyoryu Sentai Zyuranger Volume 3 features episodes 21-30.[1]

The complete Zyuranger series was released in North America by Shout! Factory in 2015.

References
See Also