The Park Where Demons Dwell (悪魔のすむ公園, Akuma no Sumu Kōen) is the twenty-fifth episode of Kyoryu Sentai Zyuranger.
Synopsis
Bandora corrupts a new park statue with a Dora Monster that creates poison moths to hurt children, angering Goushi.
Plot
There is a statue of faerie that is featured in a park and it is the last work of Tsumura, an artist. Goushi remembers Tsumura, who loved nature and his two children. But Bandora secretly switches the statue with hers, in which DoraTarantula hides. Goushi, Boi and Dan then form Gouryuujin to destroy DoraTaranatula.
Cast
Notes
DVD releases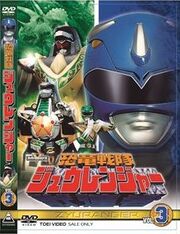 Kyoryu Sentai Zyuranger Volume 3 features episodes 21-30.[1]
The complete Zyuranger series was released in America by Shout! Factory in 2015.
References
See also
Ad blocker interference detected!
Wikia is a free-to-use site that makes money from advertising. We have a modified experience for viewers using ad blockers

Wikia is not accessible if you've made further modifications. Remove the custom ad blocker rule(s) and the page will load as expected.