Blue Anger! Strong Midomerang, Big Counterattack (青い怒り! 強烈ミドメラン大逆襲, Aoi Ikari! Kyōretsu Midomeran Dai Gyakushū) is the twenty-fourth episode of Himitsu Sentai Goranger.
Synopsis
Kenji's anger places the Gorenger in danger when a Masked Monster destroys his Midomerang, landing EAGLE secrets in the Black Cross' hands.
Plot
to be added
Cast
Guest Cast
Suit Actors
Notes
DVD releases
Himitsu Sentai Gorenger Volume 4 features episodes 19-24: Ep. 19: A Blue Spark! The Spy Front That Floats in the Sea, Ep. 20: Crimson Fight to the Death! Sun Halo Mask vs. Akarenger, Ep. 21: Blue Miracle! The Mysterious Airship That Came From Antiquity, Ep. 22: Yellow Air Raid! Nightmares of Atlantis, Ep. 23: Green Dogfight! The End of the Mysterious Airship, and Ep. 24: Blue Anger! Strong Greenmerang, Big Counterattack. [1]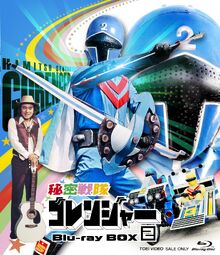 Blu-ray Box 2 comes with 17 episodes.
References