Ep. 23: The Knuckleball of Infatuation (好きすき超魔球, Suki Suki Chō Makyū) is the twenty-third episode of Kyoryu Sentai Zyuranger.
Synopsis
A boy's obsession to confess his love to a girl is complicated when Bandora releases a DoraMonster that makes children fall in love at first sight with the balls it pitches.
Plot
Anyone who swallows the magic baseball of DoraPixie becomes blindly in love with anything in first sight. Zyurangers struggle to beat DoraPixie, as Dan, Boy, and Goushi happen to swallow the magic baseball.
Cast
Guest Cast
Errors
Notes
DVD Releases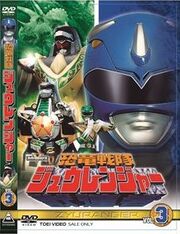 Kyoryu Sentai Zyuranger Volume 3 features episodes 21-30.[1]

The complete Zyuranger series was released in North America by Shout! Factory in 2015.

See Also
References