Ep. 17: The Purple Theme Park! A Demonic Cemetery
Talk

0
Share
The Purple Theme Park! A Demonic Cemetery (むらさき色の遊園地! 悪魔の墓場, Murasaki-iro no Yūenchi! Akuma no Hakaba) is the seventeenth episode of Himitsu Sentai Goranger.
Synopsis
Kenji and Peggy pursue Sun Halo Mask and a Masked Monster to an amusement park being used as their base for a plot to dry up Japan's water.
Plot
to be added
Cast
to be added
Notes
DVD releases
Himitsu Sentai Gorenger Volume 3 features episodes 13-18: Ep. 13: The Pink Secret! Defeat the Human Bomb, Ep. 14: The Red Coffin! The Mysterious Skull Mansion, Ep. 15: The Big Blue Fortress! Big Raging Variblune, Ep. 16: White Weirdness! The Eye in the Mirror, Ep. 17: The Purple Theme Park! A Demonic Cemetery, and Ep. 18: Horrible Black Crusaders! Attack According to the (Secret) Plan. [1]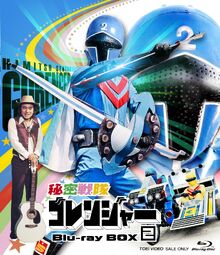 Blu-ray Box 2 comes with 17 episodes.
References
Ad blocker interference detected!
Wikia is a free-to-use site that makes money from advertising. We have a modified experience for viewers using ad blockers

Wikia is not accessible if you've made further modifications. Remove the custom ad blocker rule(s) and the page will load as expected.