The Great Escape to the Blue Sky! (青空への大脱出!, Aozora e no Dai Dasshutsu!?) is the fourteenth episode of Hikari Sentai Maskman. This episode sets up factors that will lead to a later storyline involving Akira.
Synopsis
Akira is dragged underground into a city where he meets children of Tube's empire who only dream of the surface and the sky.
Plot
to be added
Cast
to be added
Notes
While the characters from this episode do not return, the consequences regarding Akira's rescue of the underground prisoners emerges near the end of the series.
DVD releases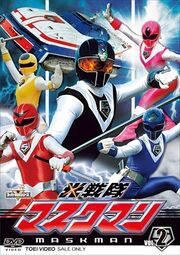 Hikari Sentai Maskman Volume 2 features episodes 11-20. [1]
References