Papa's a Vampire!? (パパは吸血鬼!?, Papa wa Kyūketsuki!?) is the twelfth episode of Kyoryu Sentai Zyuranger.
Synopsis
Dan protects a girl who becomes caught within a Dora Monster's illusion to think her father's a vampire so Tottopat can suck her blood.
Plot
Dan meets a tomboyish girl named Michi, who wants her wimpy policeman father to be a hero. Dora Argus makes Michi hallucinate to think her father is Dracula, a legendary vampire.
Cast
Notes
DVD releases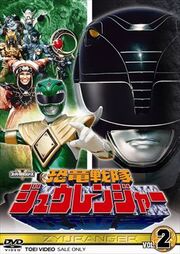 Kyoryu Sentai Zyuranger Volume 2 features episodes 11-20.[1]
The complete Zyuranger series was released in America by Shout! Factory in 2015.
References
See Also
Ad blocker interference detected!
Wikia is a free-to-use site that makes money from advertising. We have a modified experience for viewers using ad blockers

Wikia is not accessible if you've made further modifications. Remove the custom ad blocker rule(s) and the page will load as expected.