Ad blocker interference detected!
Wikia is a free-to-use site that makes money from advertising. We have a modified experience for viewers using ad blockers

Wikia is not accessible if you've made further modifications. Remove the custom ad blocker rule(s) and the page will load as expected.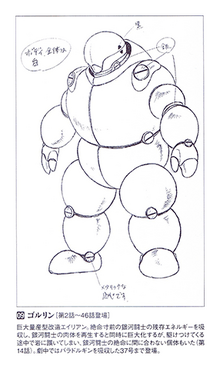 Enlarging Beast Gorlin (巨大化獣ゴルリン, Kyodaika-jū Gorurin?): A giant white-skinned robot alien which absorbs and mimics the defeated Galactic Warriors. It does so by opening a huge mouth that takes in the Galactic Warrior; then absorbs its genetic information to become a giant version of it. It can absorb any being, even if it is already a giant as is the case of Sairagin. Even if it doesn't absorb, it still has considerable strength and firepower from hand cannons to attack its opponent.Ep. 7: The 45m Grade-Schooler
However, if the Galactic Warrior had completely died, the Gorlin would not be able to mimic it. Each Gorlin has its serial number and there have been interesting cases: Gorlin number 13 combined itself with the Sidon demon warped around it instead of absorbing it; Gorlin number 12 fell down while running and could not reach Bat-rugin before he died, failing to enlarge him; Gorlin number 36 was used by Garoa to create the giant robot Big Garoan. Each Gorlin costs 100,000 Dolyen, considerably cheap given its dimensions.
Black Gorlin
A special Gorlin Chevalier had modified to serve him as a fighting robot.
List of Enlarging Beast Gorlin
Notes