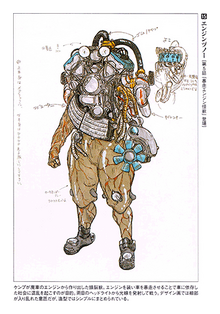 description to be added
Character History
This monster was created by Doctor Kemp. this monster enters a car that Yusuke was building with Takuji's younger brother Takeshi. Taking control of the car, this monster drives off and causes trouble before Red Falcon finds him. After being forced out, this monster enters another car before the Livemen counter with the newly built Live Cougar in a car-chase battle. After being blasted to bits by the Biomotion Blaster, this monster was reformed into a giant by Gash before it was destroyed by the Live Robo.
Personality
to be added
Modus and Arsenal
Notes
Portrayal
Behind the Scenes
References
Ad blocker interference detected!
Wikia is a free-to-use site that makes money from advertising. We have a modified experience for viewers using ad blockers

Wikia is not accessible if you've made further modifications. Remove the custom ad blocker rule(s) and the page will load as expected.