Engine Gattai SeiKuu-O
Talk

0
9,789pages on
this wiki

"Engine Fusion - Mission Start! SeiKuu-O Tune up! Go-on!"
Engine Gattai SeiKuu-O (炎神合体セイクウオー, Enjin Gattai Seikuuō?), known as the "Sky Punching King of the Heavens" (Sora o Seisuru Tenki no O), is formed when Engine Toripter, Jetras and Jum-bowhale combine.
Attacks are Toripcutter (Toripukatta), Jetras Boomerang (Jettorasu Bumeran), Jetori Turbulence (Jettori Tabyuransu), Seikuu Sonic (Seiku Sonikku) and its finisher is Seikuu Impulse (Seiku Inparusu).
Engine-O G9
See also: SkyRev Megazord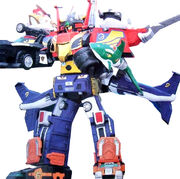 "G9 Formation - Engine Fusion! Engine-O G9 Tune up! Go-on!"
Engine-O G9 (エンジンオーG9, Enjin'ō Jī Nain), known as the "Earth and Air Reigning King" (空と大地に君臨する王, Sora to Daichi ni Kunrin suru Ō), is a combinations of Engines 1 to 9, piloted by the five Go-Ongers and the Go-On Wings team. The combination is simple, with Engines Toripter and Jetras landing on Engine-O G6's shoulders and Engine Jum-bowhale attaching to its back, Toripter's tails forming "goggles" for Speedor and Jetra's rudder and elevators form the helmet. Its finisher is G9 Grand Prix. Last Wish
Other Combinations
See Also