Engine Gattai SeiKuu-O
Talk

0
8,955pages on
this wiki
SeiKuu-O
Combined From:


Sentai Show:
Engine Sentai Go-Onger
First Appearance:
Last Appearance:
Number of Episode
Appearances:

Full list of appearances
Length:
40.5 to 77 m
Width:
28.6 to 43.6 m
Height:
53 m
Weight:
3000 t
Speed:
km/h

"Engine Fusion - Mission Start! SeiKuu-O Tune up! Go-on!"
Engine Gattai SeiKuu-O (炎神合体セイクウオー, Enjin Gattai Seikuuō?), known as the "Sky Punching King of the Heavens" (Sora o Seisuru Tenki no O), is formed when Engine Toripter, Jetras and Jum-bowhale combine.
Attacks are Toripcutter (Toripukatta), Jetras Boomerang (Jettorasu Bumeran), Jetori Turbulence (Jettori Tabyuransu), Seikuu Sonic (Seiku Sonikku) and its finisher is Seikuu Impulse (Seiku Inparusu).
Engine-O G9
See also: SkyRev Megazord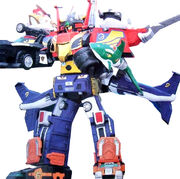 "G9 Formation - Engine Fusion! Engine-O G9 Tune up! Go-on!"
Engine-O G9 (エンジンオーG9, Enjin'ō Jī Nain), known as the "Earth and Air Reigning King" (空と大地に君臨する王, Sora to Daichi ni Kunrin suru Ō), is a combinations of Engines 1 to 9, piloted by the five Go-Ongers and the Go-On Wings team. The combination is simple, with Engines Toripter and Jetras landing on Engine-O G6's shoulders and Engine Jum-bowhale attaching to its back, Toripter's tails forming "goggles" for Speedor and Jetra's rudder and elevators form the helmet. Its finisher is G9 Grand Prix.
Other Combinations
See Also