"Four! S.P.D. Yellow Ranger!"

―S.P.D. Yellow Ranger's roll call
"S.W.A.T. Mode Yellow!"

―S.P.D. Yellow Ranger's roll call in S.W.A.T. Mode
Elizabeth Delgado, also known as Z, is the S.P.D. Yellow Ranger. She possesses the genetic power to split herself into multiple, equally-tangible selves.
Character History
S.P.D.
Z spent most of her life living on the streets - helping the homeless by stealing from those more fortunate. She desired to be a part of something bigger, and when arrested by S.P.D. was offered that chance by Commander Cruger when he made her the Yellow Ranger. Z is the one who always looks out for those who are less fortunate or being picked on.
When young Sam was picked on by his peers for being different, Z remembers what she went through as a child and comes to Sam's aid. When Z was only 12, she was ridiculed for her genetic abilities and was once saved by a mysterious person in the shadows. The person turned out to be none other than Commander Cruger. This inspired a desire to protect others. Through S.W.A.T. training on Zantor, Z learns to get over her differences with Syd and together as a team, the Rangers take down a renegade A-Squad.
When Jack leaves S.P.D., Z stays with the Rangers and continues to live out her dream of protecting the innocent.
Super Megaforce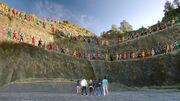 Z returned with her fellow S.P.D Rangers returned as part of the army of Legendary Rangers that helped the Mega Rangers defeat the Armada once and for all, fighting in a huge battle against hundreds of X Borgs and dozens of Bruisers. Legendary Battle
Genetic Powers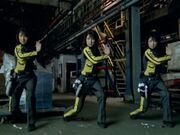 S.P.D. Yellow Ranger
Ranger Key

The S.P.D. Yellow Ranger Key is Z's personal ranger key. This key along with the majority of the Core Ranger Keys are seen lining the Command Center's interior walls. This key is mainly used by Gia Moran (Super Megaforce Yellow) who uses it to fight as the S.P.D. Yellow Ranger.
Notes
Appearances
See Also
References