"Hyper Force! Blue! Ready! Power Up!"

―morphing call
Edward 'Eddie' Banks is Hyper Force Blue.[1]
Character History
Eddie was an enthusiastic cadet at Time Force Academy who was excited to meet Professor Scotts, asking her multiple questions about her time as a Ranger and her battles with Ransik. He was in awe after the attack on the Academy to see Jen morph into the Pink Time Force Ranger.
Hyper Force Blue
Arsenal
Hyper Force Blade Blaster
Oceanus Trident
Personality
Eddie is an easy going and enthusiastic cadet who idolizes the Power Rangers, showing a great amount of interest when Professor Scotts did a lecture at the Academy. He is very knowledgeable on history to an extent and uses that to help his team, such as knowing what Halloween is even though by 3016 that particular holiday is no longer celebrated, though in rare cases he gets certain facts wrong like believing that costumes worn on Trick or Treat were actual skins primitive people wore on top of their bodies. Eddie is a fan of old movies from historic periods, his personal favorite being movies of the 1990s.
RPG Bio:  Happy Go Lucky, Team Player, History Nerd[2]
Behind the Scenes
Portrayal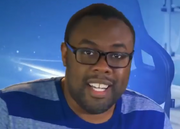 Eddie is portrayed by Andre Meadows.
Notes
References