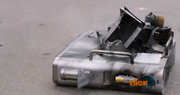 The E-Tracer is a device developed by Kendall Morgan and Shelby Watkins in an effort to help the Dino Charge Rangers locate as-yet undiscovered Zords and the Energems. Unfortunately, during it's first use in the field it was stolen from the Rangers by Poisandra, whom Fury subsequently stole it from after it homed in on the location of the Ptera Zord. Chase Randall then blasted it to prevent Sledge's Outlaws from using the device further, thus rendering it useless to the Rangers as well. However, Fury was able to locate the Ptera Zord using the device, and used a Dino Charger installed in it to control the Ptera Zord for a brief time.
Ad blocker interference detected!
Wikia is a free-to-use site that makes money from advertising. We have a modified experience for viewers using ad blockers

Wikia is not accessible if you've made further modifications. Remove the custom ad blocker rule(s) and the page will load as expected.