description to be added
Character History
Dynamoian Terry X (ダイナモ星人テリー, Dainamo Seijin Terī X, 47): An Alienizer who absorbs the lifeforce of ESPers and turns them into plasma batteries. He is confronted by Hoji and Jasmine a few years back when they were yet rookies and almost killed them (specifically wanting to absorb the lifeforce of Jasmine due to her being an ESPer) but they are rescued by their senior, Leonian Gyoku Rou, the first DekaRed of the SPD Earth branch. This is the fatal accident that paralyzed Gyoku Rou and forced him to retire. Deleted by DekaWing Cannon.
Personality
to be added
Modus and Arsenal
Notes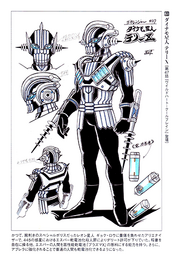 Portrayal
Behind the Scenes
See Also
References
Ad blocker interference detected!
Wikia is a free-to-use site that makes money from advertising. We have a modified experience for viewers using ad blockers

Wikia is not accessible if you've made further modifications. Remove the custom ad blocker rule(s) and the page will load as expected.