Kagaku Sentai Dynaman
Talk

0
9,847pages on
this wiki
Redirected from Dynaman
| | |
| --- | --- |
| | This article is about a/an series entry (the 7th) in the Super Sentai series. |
Kagaku Sentai Dynaman
Number
7
Number of episodes:
51
First episode:
The Tailed-People Clan's Challenge
Original airing:
February 5, 1983 – January 28, 1984
Production Order
previous
Goggle V
next
Bioman
Kagaku Sentai Dynaman (科学戦隊ダイナマン, Kagaku Sentai Dainaman?, translated into English as Scientific Squadron Dynaman) is the 7th entry in the Super Sentai series produced by Toei Company Ltd. The series aired from February 5, 1983, to January 28, 1984, with a total of 51 episodes. It had originally been intended as a baseball-themed sentai. In 1987, six episodes were given a spoof dub and aired on the USA cable network under the simplified title Dynaman.
Dynaman was called "Kayaku Sentai" (火薬, meaning "gunpowder") from Japanese fans because of the many explosions. Producer Takayuki Suzuki even said the staff used the "highest quantity of gunpowder".
Voice actor, Toru Ohira, who narrated the Super Sentai series beginning with Himitsu Sentai Gorenger, departed after this series. After narrating the Metal Hero Series from 1984 to 1989 (Except for Choujinki Metalder in 1987), he would later return to narrate Kyoryu Sentai Zyuranger in 1992, and perform the voice of Emperor Bacchus Wrath in Chouriki Sentai Ohranger in 1995.
Production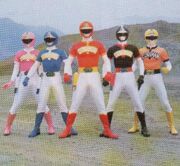 Before it was decided that Dynaman would be a group of scientists, the team was originally going to be baseball-themed. Apparently, the consistent metallic clashing in the opening theme was a leftover from this concept, the sound actually being a baseball bat. Also, the designs on the suits differ only a little from the official ones.
Plot
The Jashinka Empire (ジャシンカ帝国, Jashinka Empire?) (Combination of the Japanese words for "evil" (邪心, Jashin?), and "evolution" (進化, Shinka?)) rises from the depths of the Earth to conquer the world.
To stop them, Dr. Yumeno assembles five inventors to his laboratory, Yumeno Invention Laboratory and gives them the power to become Dynamen. Each member has their own goal, but as the Kagaku Sentai Dynaman, they are united to stop the Jashinka Empire in their tracks.
Characters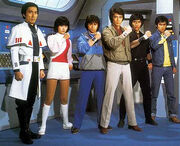 Dynamen
Allies
Tailed People Clan Jashinka Empire
Arsenal
Transformation Devices
Sidearms
Individual Weapons
Dyna Swords
Cross Cutter
Battle Tector
Blue Frisbees
Jet Surfin'
Attack Board
Chain Crushers
Rose Saber
Flower Shield
Vehicles
Mecha
Legend: 2-person mecha, ◆ 1-person mecha, ➲ carrier mecha
Episodes
Night Flight parody episodes
Pilot Episode 1 (Cy Steinberg)
Pilot Episode 2 (Rhinoman)
Day of the Dolphin: Flipper's Revenge
Lizard of Oz
Seven Loves of Lucky Pierre
The Last Adventure of Spunky the Wonder Squid
Convention Episode
Convention Episode
Special
Songs
Opening: Kagaku Sentai Dynaman
Ending: Yume wo Kanaete Dynaman
Mecha Theme (Dyna Robo): Go Go Dyna Robo
Matte Ita n da Dynaman
Honoo no Senshi ~Fire Crew~
Ore no Heart wa Yumejikake
Mahiru no Arashi ~Bomber Twist~
Super Dynamite
Endless Way
Cast
Crew
Directed by
Story and Screenplay by
Action Director
Stage Shows
Notes
Dynaman is the last of a set of series where the three "main colors" (Red, Blue and Yellow) were all males. An all male trio would not occur with these colors again until Kousoku Sentai Turboranger.
In Kamen Rider x Super Sentai: Super Hero Taihen – Who's the culprit?!, we learn that DynaYellow was originally going to be orange.
This is the first Sentai where the heroes wore suits made of spandex, the material that would become synonymous with both Super Sentai and its adaptation Power Rangers. Spandex would be used for all future Sentai teams until Tokumei Sentai Go-Busters, a span of nearly three decades, although the proceeding series, Zyuden Sentai Kyoryuger, returned to using spandex.
This season shares concepts and ideas of the classic Sentai-influencing anime "Kagaku Ninja-tai Gatchaman" (Science Ninja Squadron Gatchaman), speaking of the responsibility of science while fighting inhuman villains and even using the "Kagaku" of the Gatchaman name for their own name.

Jetman likewise is influenced by Gatchaman in the usage of a "bird team".

Dynaman has also been marketed as Dynaman The Commando.[1]
This series was originally called Baseball Sentai V-Leaguer.[2]
References