Doubutsu Sentai Zyuohger vs. Ninninger: Message from the Future from Super Sentai
Talk

16
Share
Doubutsu Sentai Zyuohger vs. Ninninger: Message from the Future from Super Sentai (劇場版 動物戦隊ジュウオウジャーVSニンニンジャー未来からのメッセージfromスーパー戦隊, Gekijō-ban Dōbutsu Sentai Jūōjā tai Ninninjā Mirai kara no messēji from sūpā sentai)[1] is the title for the VS team-up movie between Doubutsu Sentai Zyuohger and Shuriken Sentai Ninninger. The film premiered in Japanese theaters on January 14, 2017.
As it has been standard for the past seven VS movies, the protagonists of Uchu Sentai Kyuranger make their debut in this movie.
Synopsis
The chronology of Super Sentai may, at last, be at an end. A boy has arrived from the future to save the Earth from catastrophe. Yamato and his team are not aware that they are part of the enemy's plans. The Ninningers, who once protected Earth, have returned! And this time, they believe the Zyuohger are Yokai monsters! This battle will be the end of both teams. Will the message of the future boy get to Yamato in time? An unbelievable roll call that brings together all the Rangers of the Super Sentai! In 2017 the battle of all battles begins!"
Plot
to be added
Continuity and Placement
Characters
Past Sentai
Allies
Villains
Cast
Zyuoh Bird - N/A
Non-Zyuohgers - Cube Mogura, Cube Kuma, Cube Komori
Combinations used: ZyuohKing 1*2*4, Zyuoh Wild 6*5*3, ZyuohKing 1*2*4 Kirin Bazooka, Wild ZyuohKing, Wild Tousai Dodeka King, Wild Tousai Shuriken King
Forms Used
Theme Song
Errors
Notes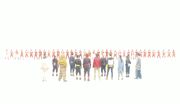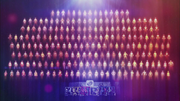 The conference of the first 38 Red warriors whom appear before Ninningers and Zyuohgers echoes the appearance of the first 24 Reds before the Gaorangers in Gaoranger vs. Super Sentai. Coincidentally, both Red gatherings are led by Red Falcon; furthermore GaoRed now stands alongside Red Falcon here.

With the exception of Akaranger, Rangers in the center are grouped in the following categories:

MagiRed, Shinken Red, ChangeDragon: Rangers based on mythological animals.
TyrannoRanger, AbaRed, Kyoryu Red: Dinosaur Rangers.
HurricaneRed, NinjaRed: Ninja Rangers.
GingaRed, Red Buster, VulEagle, Akarenger, Red Falcon, GaoRed, Red Hawk, GekiRed, Go-On Red: A mix of Feline-themed and Bird-themed Rangers.

VulEagle standing next to Akarenger highlighted the fact that Zyuohger is a homage to Sun Vulcan.

RyuuRanger, Gosei Red: Dragon-themed Rangers.
ToQ 1gou, Gokai Red: Rangers from traveling teams, whose main robots were also their bases.
BoukenRed, DekaRed, GoRed, MegaRed: Brigade-themed Rangers.
Red Racer, Red Turbo: Car-themed Rangers.

The cameo spirit appearance of the first 38 Sentai within Wild Tousai Shuriken King marks this movie with the biggest gathering of Sentai Rangers, albeit not all physical, with a grand total of 234 Rangers comprised of the first 41 Sentai Teams along with the first official 22 6th Rangers and two Extra Rangers from Ninninger, eclipsing Gokaiger Goseiger Super Sentai 199 Hero Great Battle. While Bud - an Extra Ranger from Zyuohger - appears, he does not transform into Zyuoh Bird and thus is not counted.
Mirroring the Zyuohgers' prior TV team-up with the Gokaigers, the previous Sentai (Ninningers) joins and provides their power to the team in Wild Tousai King.
This VS movie is similar to its Kamen Rider's Movie War counterpart, Kamen Rider Heisei Generations: Dr. Pac-Man vs. Ex-Aid & Ghost with Legend Riders, in that the titles end with phrases indicating the presence of past heroes ("with Legend Riders" and "from Super Sentai")
This is the first time that Daisuke Shima and Joji Nakata appear in the same production since Choujuu Sentai Liveman.

This also mirrors a previous production involving Gokaiger: Joji Nakata's last appearance in Super Sentai before Zyuohger was in episode 30 of Gokaiger, Just a Lone Friend's Soul. That episode also had him in a voice-over role alongside a former Liveman actor reprising his role (in Gokaiger, it was Kazuhiko Nishimura as Joh Ohara/Yellow Lion).

Yakumo performing magic to make flowers appear in Jagged' cannon, could be a reference to the famous quote "Put flowers in your guns".
This movie marks the only appearances of ZyuohKing 1*2*4 and ZyuohWild 6*5*3.
KiNinger using Cloning Ninjutsu in his fight with Zyuoh Lion is possibly a reference to HurricaneYellow's Lion Dance technique.
References
External links