Dora Minotaur (ドーラミノタウロス, Dōra Minotaurosu, 3 & 4): This Dora Monster was used in an attempt to keep the Zyurangers from gaining the Legendary Weapons, and from saving a boy named Hiroshi. Armed with a spiked club and shield, he could burrow underground. He could also shoot lightning from his horns and breathe a stream of fire. He received the full-brunt of the Howling Cannon, destroying him.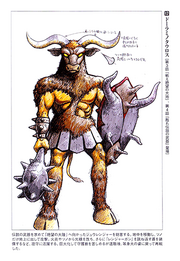 See Also
Ad blocker interference detected!
Wikia is a free-to-use site that makes money from advertising. We have a modified experience for viewers using ad blockers

Wikia is not accessible if you've made further modifications. Remove the custom ad blocker rule(s) and the page will load as expected.