The Domeloid (ドームロイド, Dōmuroido) is a Messianic Metaloid that is created when Messiah Card 11 card infects the domed Higashi District East Stadium. He was mainly used as an arena to subject Go-Buster Ace to his DomeZord counterparts in a gauntlet to analyze Hiromu's fighting data.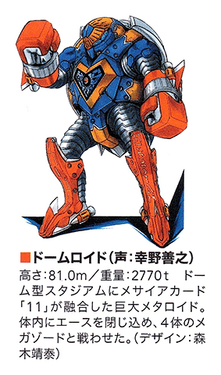 Notes
Messiah Card: 11
Production Motif: Domed Stadium
Height: 81 m
Weight: 2770 t
Notes
Domeloid's suit actor is Hiroyuki Muraoka.
Domeloid is first giant Metaloid to battle along side its Vaglass Megazord counterparts. He is also the first to have multiple MegaZords made of each type.
Domeloid bears a resemblance to Ganirun from B-Robo Kabutack.
Conception
Appearances
Ad blocker interference detected!
Wikia is a free-to-use site that makes money from advertising. We have a modified experience for viewers using ad blockers

Wikia is not accessible if you've made further modifications. Remove the custom ad blocker rule(s) and the page will load as expected.