Dimensional Drifter Galvidi (Garubidi) (Movie): A rouge who stole the Baku Laser from the Evoliens, posing as Princess Freesia to use the Abaranger to restore the weapon so he could control Bakurenoh. After Bakurenoh was defeated, Galvidi was killed by Abared with the Bakulaser.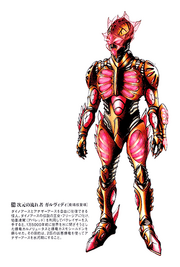 Ad blocker interference detected!
Wikia is a free-to-use site that makes money from advertising. We have a modified experience for viewers using ad blockers

Wikia is not accessible if you've made further modifications. Remove the custom ad blocker rule(s) and the page will load as expected.