"I'm sorry, Rangers, but we simply do not have enough information to proceed."
This article is a stub, meaning it needs more info. You can improve this RangerWiki article by expanding it.
| | |
| --- | --- |
| | This article is about a/an group of villains in the Super Sentai series. |

Devil Jark (デビルジャーク, Devil Jark) is the main antagonists in Super Sentai Battle: Ranger Cross.
Members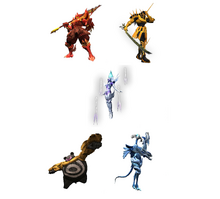 Character of this work original. Villainy who had been trapped in the prison of the black hole.
Voiced by Takahiro Fujimoto
Voiced by Kyoto Murakami
Voiced by Kohei Matsumoto
Voiced by Kumiko Izumi
Voiced by Akihiro Nosawa
Voiced by Takeshi Mori
Notes
1) [From http://ja.wikipedia.org/wiki/%E3%82%B9%E3%83%BC%E3%83%91%E3%83%BC%E6%88%A6%E9%9A%8A%E3%83%90%E3%83%88%E3%83%AB_%E3%83%AC%E3%83%B3%E3%82%B8%E3%83%A3%E3%83%BC%E3%82%AF%E3%83%AD%E3%82%B9 translated by Google Translate.]