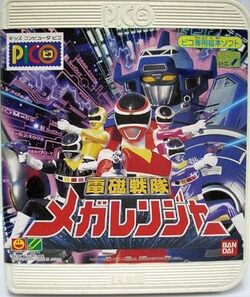 Denji Sentai Megaranger is a video game based off the Super Sentai series of the same name. It was released in 1997 for the Sega Pico, You can click on the Rangers, their weapons, or mecha to get basic info about them. Change the suit colors or create your own twisted beast by mixing various parts of five monsters from the show. Some gameplay involves knocking out the Kunekune before they can knock the Rangers off or clicking on the screen at the right moment so Galaxy Mega can attack the monster before it gets hurt.
Ad blocker interference detected!
Wikia is a free-to-use site that makes money from advertising. We have a modified experience for viewers using ad blockers

Wikia is not accessible if you've made further modifications. Remove the custom ad blocker rule(s) and the page will load as expected.