Omegamax Cycle
Talk

0
8,829pages on
this wiki
 

Omegamax Cycle
Number:
6
Pilot/Summoner:
Omega SPD Ranger
Season:
S.P.D.
First Appearance:
{{{firstepisode}}}
Last Appearance:
{{{lastepisode}}}
Number of Episode
Appearances:
{{{numberofepisodes}}}
Full list of appearances
Length:
27.4 m
Width:
41.9 m
Height:
47.7 m
Weight:
5000 tons
Speed:
250 km/h

The Omegamax Cycle is a futuristic Zord piloted by the Omega Ranger, the Omegamax Cycle is a gigantic motorcycle that can be ridden by the Delta Squad Megazord, and combine to form the Deltamax Megazord.
The Omegamax Cycle has also been piloted by Jack Landors.
This only three Megazords was not destroyed in the finale.
Omegamax Megazord
The
Omegamax Cycle
has the ability to transform into the exceptionally fast
Omegamax Megazord
. It has blade weapons mounted on its wrists, with which it can literally slice through evil. The hands on its chest can reflect attacks and it flies up and spins while firing energy blasts for a finishing move.
Deltamax Megazord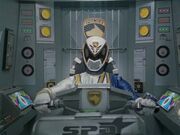 See also: Super Dekaranger Robo
The Omegamax Cycle can merge with the Delta Squad Megazord to form the Deltamax Megazord. It has hyper sonic speed and can destroy evil robots with its Hyper Speed Punch Attack.
See Also