Delta Base
Talk

0
9,860pages on
this wiki
 

Delta Base
Number:
Pilot/Summoner:
SPD Shadow Ranger
Season:
S.P.D.
First Appearance:
{{{firstepisode}}}
Last Appearance:
{{{lastepisode}}}
Number of Episode
Appearances:
{{{numberofepisodes}}}
Full list of appearances
Length:
n/a m
Width:
n/a m
Height:
n/a m
Weight:
n/a tons
Speed:
n/a
The Delta Base is the command post for the SPD Academy and the SPD rangers. It is used for the containment of alien forces that would otherwise destroy or conquer the Earth for the Troobian Empire.
Delta Command Crawler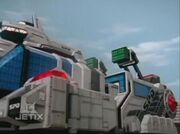 The Delta Base can transform into the
Delta Command Crawler
, a rover vehicle that can traverse around the globe in miniutes. It acts as the
Shadow Ranger
's personal zord. This mode is equipped with two powerful laser cannons. The Delta Command Crawler is also carrier zord, giving it the ability to transport the
Delta Runners
wherever they are needed.
Delta Command Megazord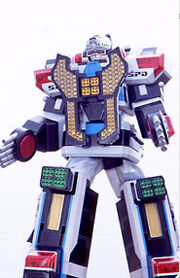 The
Delta Command Megazord
is the final stage of the Delta Base Defense System, and is one of the largest zords in existence, it is at more the twice the size of the
Delta Squad Megazord
. The Delta Command Megazord can fire powerful lasers from its finger-tips, as well as powerful energy beams from its knees, and its finishing attack is a destructive wave of energy launched from the laser panels on its chest. It is usually piloted by the
Shadow Ranger
but also has control panels for the five main Rangers and the
Omega Ranger
.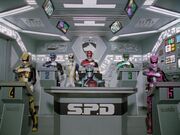 The Delta Command Megazord was piloted by Broodwing and his forces in a battle against the Rangers in the finale, but its power was easily cut off by Kat Manx and Boom. The Delta Command Megazord can be used in Power Rangers: Super Legends.
Zords Carried
Notes
Second base that can transform into its own megazord after the Astro Megaship.
Second base not to be destroyed after the Animarium.
See Also