Delphine
Talk

0
9,852pages on
this wiki
Delphine is the White Aquitar Ranger, and the leader of the Alien Rangers. She is an Aquitian that requires waters of Aquitar in order to live.
Character History
She was the leader of the team also (the first female to be a Power Rangers team leader), though, as Red Ranger, Aurico takes point in some battles.
Delphine pilots the White Battle Borg and the White Shogunzord.
Delphine has more endurance and can survive for long outside of water than her team. Water is the essential element for the survival and regeneration of the Alien Rangers.
White Aquitar Ranger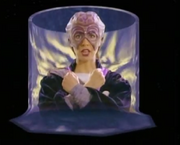 Zords
Arsenal
Notes
Delphine is the first female leader of a Ranger team followed by Jen Scotts, Taylor Earhardt, Charlie and Lauren Shiba. She is also the first female White Ranger in Power Rangers, with the first female White Ranger in Sentai being Sayaka Nagisa.
She is the first female Power Ranger to be the sole female member of her team followed by Tori Hanson, Kira Ford and Lily Chilman.
Delphine is one of the first ever Power Rangers to have the exact same role as her Sentai counterpart. Like Tsuruhime, Delphine was the leader of her team, even though Sasuke and Aurico often led their respective teams into battle in their place and remained in the center of formations.
See Also