Dekaranger Stage Show at Super Hero Nagoya Dome
Talk

0
Share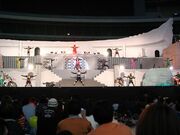 In a stage show where the Dekarangers are seen fighting their usual foes, a Undeads show up and defeating them. Kamen Rider Ichigo, Kamen Rider V3, Kamen Rider Faiz, Kamen Rider Blade, Kamen Rider Garren, Kamen Rider Chalice, Kamen Rider Leangle & Akaranger arrive assist the Dekarangers.
Ad blocker interference detected!
Wikia is a free-to-use site that makes money from advertising. We have a modified experience for viewers using ad blockers

Wikia is not accessible if you've made further modifications. Remove the custom ad blocker rule(s) and the page will load as expected.