Tokusou Sentai Dekaranger
Talk

0
8,839pages on
this wiki
| | |
| --- | --- |
| | This article is about a/an series entry (the 28th) in the Super Sentai series. |
"Dekaranger" redirects here. For the organization, see Special Police Dekaranger.
Tokusō Sentai Dekaranger (特捜戦隊デカレンジャー, Tokusō Sentai Dekarenjā?), translated into English as Special Investigation Squadron Dekaranger, was the 2004 Super Sentai Japanese TV series. Deka is Japanese colloquial slang for "detective" and has no direct translation, but is sometimes written over the kanji for "Keiji" (a more formal term for detective); it is also a Greek prefix "deca," meaning "ten," and a total of ten Dekarangers appear in the series and movie combined. The footage from the show was used to create the American series Power Rangers S.P.D.
Plot
""S.P.D.. Special Police Dekaranger. Five detectives who fight cool with burning hearts. Their mission: To combat space criminals who invaded Earth. They will protect the peace and safety of all humanity!""
―Narrator
The story begins when Banban Akaza arrives on Earth to the city of Megalopolis. He is transferred to the S.P.D. (Special Police Dekaranger) Earth branch by his commander. By that time, Agent Abrella, an Alienizer arms dealer, turns his destructive attention to Earth, helping the criminals there. It's up to the Dekarangers to stop them and bring them to justice. The SPD of Earth are stationed in the DekaBase under the command of Doggy Kruger.
Characters
Special Police Dekarangers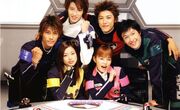 Earth Branch
Other Dekarangers
SPD Fire Squad
SPD Staff
Allies
Space Criminals Alienizer
Monsters
Others
Arsenal
Transformation Devices
Sidearms
Other Standard-Issue Devices
Team Blaster/Power-Up
Vehicles
Mecha
Dekamachine System
Legend:◆ piloted mecha
Patwing System
Legend:◆ piloted mecha
DekaBase
Legend:◆ piloted mecha
Episodes
Main Article Tokusou Sentai Dekaranger Episodes
All episodes in this series are directly called "Episode.", with every episode title in English; these titles are transliterated into Japanese katakana. All titles are separated into "two words"; those that appear longer are due to a certain phrase used in one of these words (such as "High Noon" of "High Noon Dogfight", where the "High Noon" is kept together, while the "Dogfight" is made into the separate, second word)
Specials
Cast
Main cast
Suit actors
Stage Shows
Notes