Ad blocker interference detected!
Wikia is a free-to-use site that makes money from advertising. We have a modified experience for viewers using ad blockers

Wikia is not accessible if you've made further modifications. Remove the custom ad blocker rule(s) and the page will load as expected.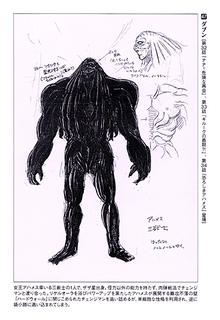 Davon is one of three Space Beasts allied with Queen Ahames, working alongside her during the scheme to access the power of the Rigel Aura
Character History
A large Space Beast with a muscular build and dreadlock hair; his main abilities allow for the usage of his immense strength to withstand attacks and to lift massive boulders to smash his enemies. Alongside Gizan and Jella, he makes up a trio of Space Beasts utilized by Ahames when she makes her move in taking over the main Gozma forces.
During Ahames' first invasion after gaining the super powers of the Rigel Aura, Davon pursues Tsurugi while he desperately tries to protect a container of blood needed to be delivered to a hospital as the city is sealed by the space queen's Hard Walls. Once at the hospital and surrounded by enemies on all sides, the Changeman ultimately use their Power Bazooka on him. Ironically it is his death that allows for Change Dragon to complete the delivery: since Gyodai couldn't reach his body to rebuild it through the Hard Wall Ahames constructed, she had to lift it up for him to get close enough to fire, giving him the opportunity for the delivery. The Changeman have a hard battle with the giant Davon, even becoming encased in a Hard Wall ball courtesy of Ahames, but the sacrifice of Rigelian dragon Kukku allows for the team to barely break free and destroy him. Ep. 34: Ahames the Terrible
Personality
to be added
Modus and Arsenal
Notes
Portrayal
Behind the Scenes
References