Ad blocker interference detected!
Wikia is a free-to-use site that makes money from advertising. We have a modified experience for viewers using ad blockers

Wikia is not accessible if you've made further modifications. Remove the custom ad blocker rule(s) and the page will load as expected.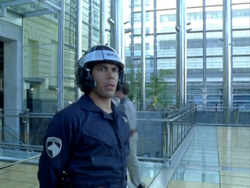 Danny is an employee working at S.P.D. He appears in "Recognition". He first appears when Sky takes Wootox (who intimidates him) to his jail cell. Later on, unknowingly, Danny is lucky to not be killed by Wootox who switched bodies with Sky.
Danny walks to Wootox's cell, with Sky in Wootox's body. He demands for the cell to open as he shouts in unknown language. Danny, thinking that he is simply acting up, orders him to settle down before getting angry and tasering him.
Danny is portrayed by Kiel McNaughton.